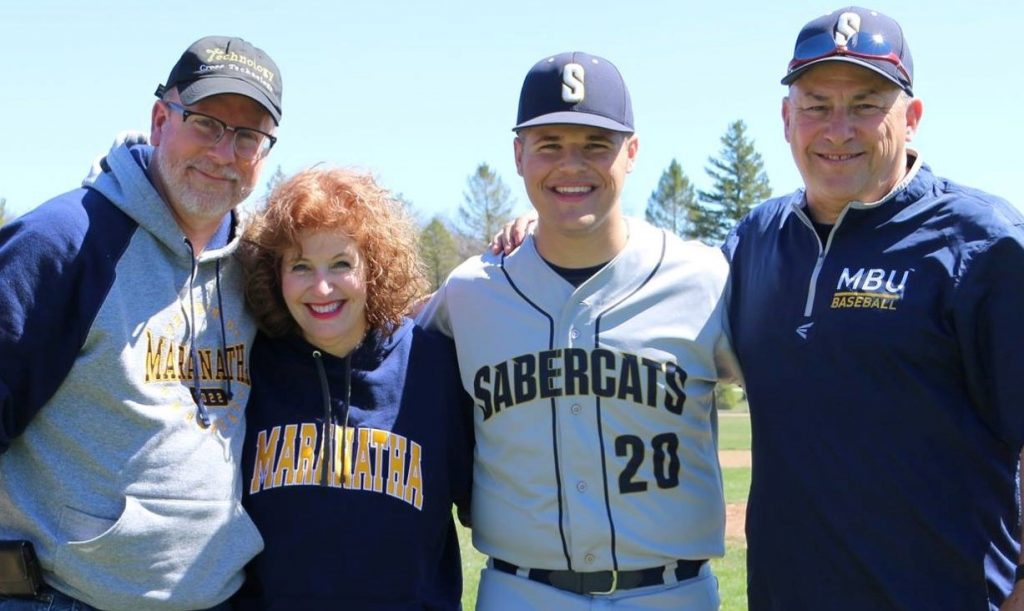 "A leader is one who knows the way, goes the way, and shows the way." –John C. Maxwell
Leaders are plenty in quantity, but rare in quality. We often think leadership is simply leading others, but we cannot forget that great leaders must first learn to follow God, who will then lead them.
What makes a great leader? How can I be a great leader? Coach Gary Garrison has some advice for you.
Towards the end of the past semester, I needed to conduct an interview for one of my classes that dealt with leadership. I chose a new leader in my life, Mr. Gary Garrison, my baseball coach at Maranatha.
Mr. Garrison is not only an associate professor in the school of education at Maranatha Baptist University, but he is also the head baseball coach. He lives in Watertown, WI and has worked as a teacher and coach for nearly forty years.
The questions in this interview deal not only with his role as a coach and teacher but also as a father and husband. Many questions deal more with his position as a head coach rather than as a teacher, although teaching had a significant impact on his overall development as a leader.
I thought of Coach because of his admirable incorporation of ministry into his career. He gives thoughtful insights and valuable wisdom that is not only practical for teachers or coaches but also anyone who desires to one day be a good leader. My prayer is that his wisdom is a help to you in whatever position of leadership you may be in.
The Interview
Question: How would you define your leadership position?
Coach: Mentoring of young men, specifically baseball players and athletes. Also, educating physical education and health majors, which is my field of study and my area of teaching. The Lord has put me in a position of edification, not evangelization. Obviously, I am involved in some of that, but my primary focus here at Maranatha is not evangelism simply because it is Maranatha, a Christian college where there are many other believers.
Question: Identify your training and/or qualifications for this position.
Coach: I was a physical education and health major. God prepared me to teach, and I always knew I wanted to coach, so after four years of college and two master's degrees, here I am. My first master's degree was in physical education, and my second was in health education. My first master's degree came from the University of West Florida, and my second came from the University of Wisconsin-Whitewater.
Question: When did you first enter a position of leadership, whether teaching or coaching?
Coach: My first year of teaching and coaching was in the 1980-1981 schoolyear. It seems like just a few years ago, but it's hard to believe it was almost forty years ago. It was at Grace Baptist Academy in Kankakee, Illinois, where I grew up.
Question: Did you feel like the first school you taught in was a challenge, or a good start?
Coach: I felt like it was a good start. Were there challenges? Absolutely. One of the greatest leadership challenges I faced in that first setting was, because that was my home church's Christian school (I didn't go to school there, I went to public school), a lot of the students knew me from church, and I wasn't much older than them. A few of them were the pastor's sons, and I was close friends with some of them. Several of them knew me on a first name basis because we hung out together. So it was a bit of a challenge to maintain the teacher-student relationship. But after a few years, that went away since those students graduated out of the school.
Question: Do you believe a leader is born or formed?
Coach: Yes. The reason I say it that way is because some people have leadership written all over them, even though they might not know it (take Moses for example). Other people are more behind-the-scenes. I have worked with men who I think will have a very prominent place when we meet the Lord. Do you know who they were? They were the janitors, the custodians, and they never preached. They never delivered one message or sermon. I am thinking of one man who had a tremendous influence on my sons' lives because he was the youth leader while they were in junior high, and he also worked as a maintenance man. I never heard him preach one message, but he still preached a lot, if you know what I mean by that. Most of it was out in the woods, on camping trips with the boys, and he taught them life lessons. So, yes, he did preach, although he didn't stand behind a pulpit when he did it. I think some men are equipped by God for leadership, and I think God equips others for followership. Certain men are used in secondary roles, to be supportive and come along side a leader. I may call it a secondary role, but it's really not secondary. It is a supportive role.
Question: How would you describe the process of developing your leadership skills?
Coach: The Lord really had to work in my life, and I would have to share a long string of testimonies for you to fully understand what I mean by that. He had to refine me, just like He is still doing. I am one of those guys, and I am sure you've heard it before, who could say, "I'm not all I should be, but praise God I'm not who I used to be." That is so characteristic of me, and I praise the Lord for the work that He has done in my life. My leadership ability and skills are in direct proportion to my yielding of talents and abilities to God.
Question: What are the key characteristics of good leadership?
Coach: Humility, and I don't always exhibit it as well as I'd like to, but I want to be humble. I want to be a servant, too. Compassion, and understanding for the young men I coach, as well as the students I teach in class. I want them to see transparency. I want them to see how I treat my wife. I want them to see how I respond to adversity. I am not always those things, but God is faithful and leads me each step.
Question: Has your leadership approach changed over time?
Coach: One of the things that has had to change over the years is what I expect from the young men I coach, and my focus for their development. When I first started, I was most interested in how many games can we win, and what kind of player are you going to be. I still want that for every one of my players, but way more importantly, what is your walk like? That has become way more important to me than when I first started. I used to think when I started as a high school coach that if we didn't win the state championship, we failed. That perspective has changed greatly, and ultimately the end goal. When all this is said and done, what kind of men did I coach? How is Barry Bradshaw a godlier young man because he played on my team? That is a probing question. Is he a better man because he played on my team? That is convicting right there, and that speaks to your desire for leadership.
Question: What has been the greatest challenge to you as a leader?
Coach: Myself; I get in my own way sometimes. I lose my perspective sometimes, and I begin to focus on temporal tasks rather than eternal tasks.
Question: What is the greatest benefit of being a leader?
Coach: Let me show you something. This right here is a file I keep, it's called my "Bad Day File." Everyone has bad days. Some days I just come to school, and things don't go the way I expected. I must be reminded that there are good days, as well as the bad ones. Years ago, I started this file with notes from students saying thank you, some from even twenty years ago. When I would get a note or card, or something special, I put it in this file. Every once in a while, I pull it out and look through it. Some of the kids I can't even remember from so long ago. But I am reminded by this file that there is great reward in serving the Lord. So, when you are in ministry one day, may I encourage you to make a file like this?
Question: What was the worst mistake you've made as a leader?
Coach: The worst mistake would be losing my temper or cool in front of my players, which I have done a few times. I have had to apologize to them. The Bible says a man who doesn't have self-control is like a city with broken down walls, defenseless, you know? (Proverbs 25:28)
Question: Who was the most influential leader in your life? Why? How?
Coach: I have a very good friend by the name of Coach Keith Champion. He is a very dear friend of mine, who taught me many valuable things. I coached with him for a few years. But I watched him very closely and picked up a lot of valuable things. We still maintain a very close friendship. If 62-year-olds have BFFs, this guy is my BFF. He has been a great support and encouragement.
Question: Have you ever had a poor leader in your life? If so, in what ways would they be characterized as poor?
Coach: I worked with a guy who I thought showed some poor leadership skills. He had some good skills, but he was very sarcastic towards the students. He was exclusive towards some students. He showed a lot of favoritism towards students who were athletes, and those who were not almost got a second-class treatment from him. They most likely felt like second-class citizens. I don't know that I would classify him as a leader in my life, but he was something of a mentor, since he was an older, more experienced teacher. By the time I had met him, I was already teaching.
Question: Do you desire more leadership roles, or would you eventually like to withdraw from leadership?
Coach: I don't have any desire to do anything else except what the Lord has for me right now. I am very content doing what I am doing. I love coming to work each day, and some days are easier than others, but I enjoy my job, my coworkers, and the students and athletes that I have the privilege to mentor. It is a challenge to me to be what I need to be so that they can see a godly man. It provides a good bit of pressure some days.
Question: Do you think there is ever a time you stop being a leader once you start?
Coach: I think all of us are a leader to someone in every chapter of our lives. Sometimes leaders don't even realize they are leaders. I think very few men are not in a position of leadership in one way or another. That leadership may be parenting, in church, in marriage, or at his work. A guy that says he has no leadership roles worries me. Somebody's always watching. I am a dad, a husband, a coach, a teacher, a deacon, and every one of those says you must lead in the right way.
Question: How would you encourage someone else to prepare for a leadership role?
Coach: Learn how to serve others. Be humble. I haven't always been as humble as I should be. But I really mean that. I have often taken credit that belongs to the Lord, and I say that to my shame. I am sure you understand what I am saying.
Question: As a man, what leadership traits have proved to be most important as a father/husband?
Coach: Be consistent. If you say you're going to do something, do it. You must follow through. Also, serve your family, and be an example of servanthood to them. I also want my children to see that I treat my wife in a gentle way, that she is to be treasured and valued. Remember that the Bible says to honor our own parents as well. (Exodus 20:12) A guy who despises his parents will be in a sad state of living.
Question: What is one key way you incorporate your ministry and heart for God into your career?
Coach: Just learning to confront in love. I don't like confrontation. But sometimes, the Lord puts me in a place where I really need to confront, and He called me to do it. Players are going to know that you love them enough to confront them, if you have a right relationship. If I confronted you, I would hope that you would know and realize that I'm not trying to berate you at all; I want to confront you because I want you to see victory. When you establish a good relationship, confrontation becomes easy, and better received. You have greater influence with a good relationship.
Final Thoughts
Baseball coaches have had a funny way of being some of the most influential men in my life besides my dad. I first played baseball in third grade, and that was when I met my first coach of any sport, Coach Alec Viramontes. Coach Alec had three sons (now four) that he had volunteered to coach for a recreational Christian baseball league, and I happened to be placed on the team. Coach Alec's influence on me was incredible, and I continued to be coached by him in sports until I graduated high school. But his coaching still helps me today, although it is no longer just about sports.
Coach Alec taught me not only practical baseball tips that I must remember during future seasons, but he taught me many more valuable lessons. During the years he coached me, Coach Alec helped his parents with his disabled brother, lost his job, and went through a battle with cancer. He did all this while raising his four sons, supporting his wife, and never complained once.
Coach Gary has picked up the ball and kept running. In just the five months I have known him, he has already influenced me more than some of the men I have known my entire life. His testimony of service and humility has been a true challenge, as well as his practical devotions tailored specifically for young men, which he never fails to give before each practice. As his words reflect, he has exemplified to me what true submission to God's leading and working looks like. His honesty and transparency spur me on in hope that just as God has redeemed his life to make such an impact on so many lives, He can do the same with my life.
What drew me to Coach Gary for this interview was my admiration for his seemingly perfect balance between career and ministry. Baseball coaches are supposed to teach fundamentals and focus on winning games. I am thankful that both of my baseball coaches transcended the stereotypical expectations of coaching. Instead of just baseball fundamentals, they have taught me the fundamentals of manhood and walking worthy of God's calling on my life. Rather than focusing on winning games, they have focused on pointing the hearts of young men towards Jesus Christ, the One who shaped and formed their own lives.
My baseball coaches have taught me that in my ministry, and whatever it may entail (coaching, teaching, etc.), servanthood, humility, and genuine care for the hearts and souls of God's sons and daughters are far more important than winning a game.
"Humble yourselves in the sight of the Lord, and he shall lift you up. " – James 4:10